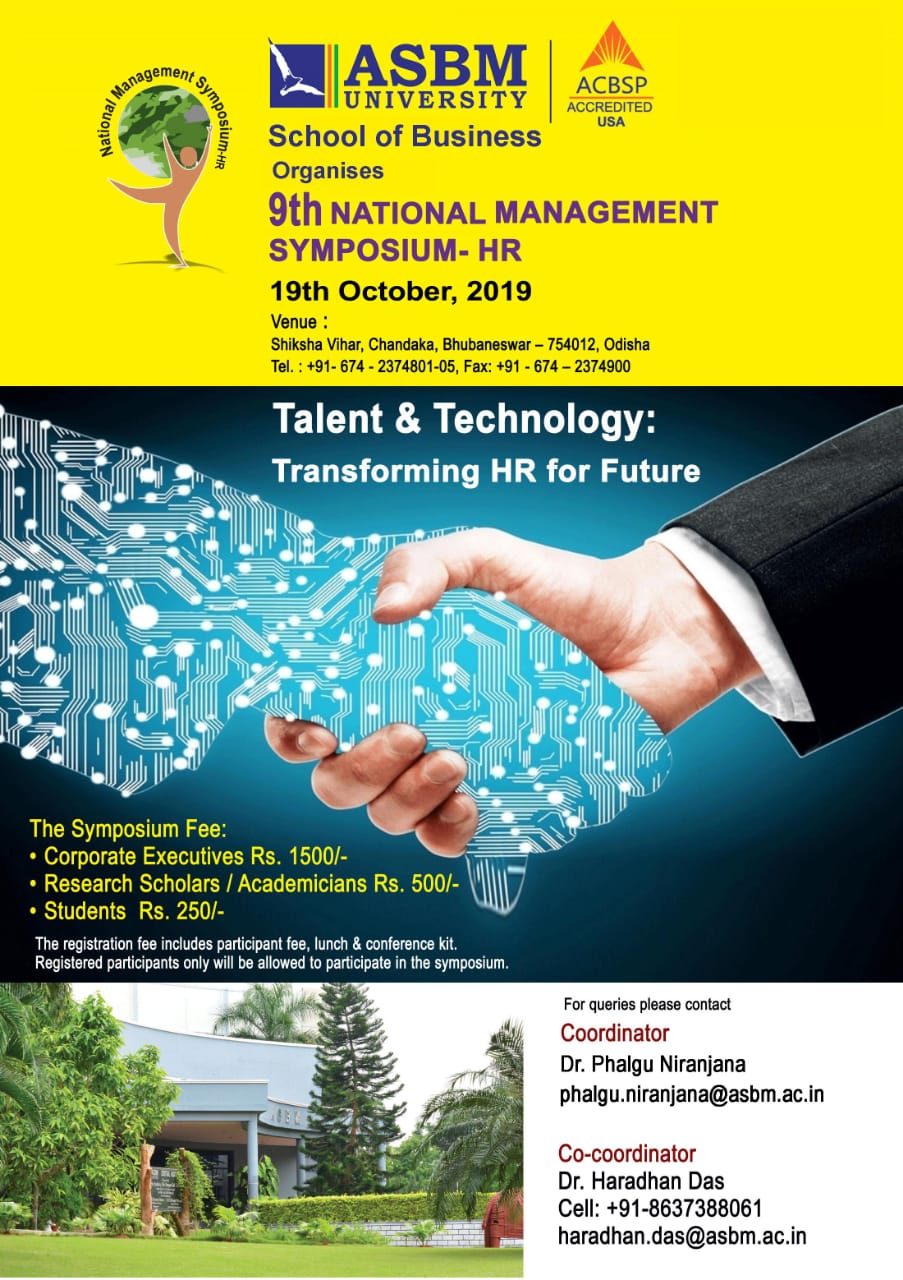 Aautonomous Business School. Established In 2006 by a team of dedicated educationists and management professionals led by Prof. Biswajeet Pattanayak, former Professor of IIM Lucknow & Indore, ASBM has been benchmarked with the IIMs for providing quality management education. It offers the PGDM programme approved by AICTE, Ministry of HRD, Govt. of India with national accreditation of NBA. The quality parameters of the school have earned it international accreditation of ACBSP (USA).
Besides playing a pivotal role in providing value based management education with an industry driven curriculum, ASBM is also committed to research and development. By dint of continuous innovation in its approach for excellence, ASBM was adjudged the "Best B-School" by Odisha Technological Conclave, 2018 and has been rated 'A+++' in the National Survey of Business India in December 2016.The Institute has also been rated the highest on governance parameter, along with IIM Ahmadabad, for three consecutive years by Indian Management best BSchool Survey.
To realise its vision to set the best standards for management education and business leadership, ASBM has entered into coveted MoU with internationally reckoned centers of learning like Metropolitan State University, California State University, San Bernardino (CSUSB), Westcliff University, North Carolina Central University (NCCU), St. Cloud State University (all from USA), Universidad Argentina de la Empresa (UADE), Argentina and Management Development Institute of Singapore (MDIS), Singapore.
The function of Human Resource (HR) has moved hrough ages away from just understanding the basics of HR to enabling the business focus. HR today has moved from the role of a rector to a partner to an anticipator. Many executives do not view HR as a business. They are used to thinking of HR as an organizational support department and accustomed to telling them what to do. Even, managers are not accustomed to taking responsibility for people management and may not view HR professionals as enablers for this new role. Considering this, a general shift in HR strategy is noticed disburses less focus on adversarial, tightly controlled work systems towards work structures and more focus in this direction of employees' career growth, skill fortification which will ultimately facilitate greater employee connection for gaining business. Thus, the future HR is primarily focusing on driving culture-impacting and talent centric HR strategies. In today's scenario, redesigning HR has made its way to the top of the corporate agenda, and almost all corporate HR departments have begun to apply this approach to their own processes. Properly regarded as a means to lasting change, the redesign of HR processes and the elimination of non-value-adding work in human resources management provide powerful opportunities for the growth in business. Given this background, 'Redesigning HR: The way Forward' provides audiences with a good platform to share the HR best practices, which can help transform the thinking of all the key stakeholders.