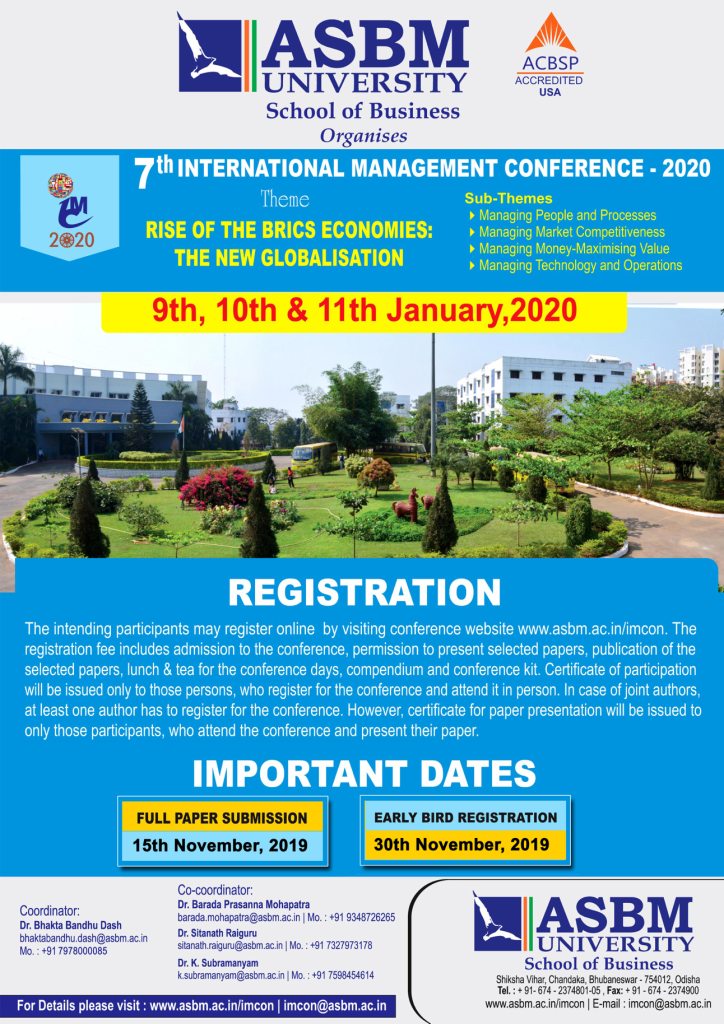 Paper Submission Guidelines
The Cover Page Of The Paper Should Contain The Title, Authors' Name And Affiliation, Address And Email Id.
The Length Of The Paper Should Not Exceed 5000 Words Excluding Title Page And Reference.
It Must Be Accompanied By An Abstract/ Summary (In About 200 Words) And 4-5 Keywords.
It Should Be Typed In Times New Roman Style, With Font Size 12,1.5 Line Space And 0.75 Inch Margin On All Sides.

Note:For Details please go the Paper Submission Guidelines.
The global economic landscape is witnessing sea change in event of population growth, urbanization, climate change and energy and food crises and other intertwined problems. The major change of the current international system is the change of balance of power that is the end of a unipolar world and the emergence of a multi polar world. With the rising importance of the economic relations between the BRICS and other Emerging Market and Developing Countries (EMDCs), though it is not surprising to recognize the immense potential of the BRICS countries, at the same time it is equally challenging for the BRICS countries to play a leading role in creating opportunities and initiatives that would propel future global economic growth and help achieving Sustainable Development Goals (SDGs).
This International Conference will provide a platform to academicians, research scholars, industry practitioners and students for multi-layered discussion and debate focusing on BRICS economies as drivers of growth from different dimensions – managing people, money, markets and technology.
CONFERENCE DATES: 9th, 10th & 11th January 2020
IMPORTANT DATES
ABSTRACT SUBMISSION: 30.09.2019
FULL PAPER SUBMISSION: 15.11.2019
EARLY BIRD REGISTRATION: 30.11.2019